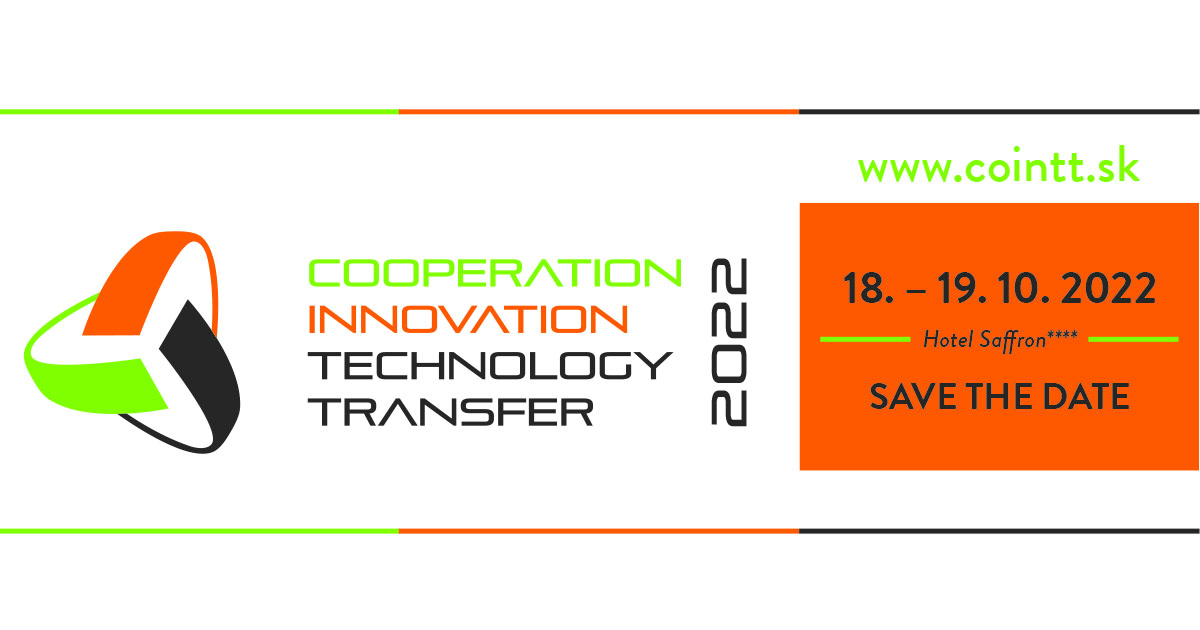 The COINTT event is technology transfer, intellectual property protection, innovation and business support. These broadly oriented concepts have their specificities, and they develop over time. The annual conference is thus an opportunity for interested parties to share the most up-to-date information from the given fields.
The largest technology transfer conference in Slovakia – COINTT 2022, is scheduled for October 18-19. It will be hosted by Hotel Saffron, and for the first time, the conference will take place only as a so-called "in-site" event. There will be quality speakers and a ceremonial announcement of the results of the Technology Transfer Award in Slovakia.
Cooperation between investors and universities
This year's COINTT aims to simplify contact between the academic and business spheres in technology transfer. "In individual program entries, we will look for answers to the questions: How are open access and easy access beneficial for the commercial use of intellectual property? How can technology transfer be simplified in Slovak scientific research workplaces? What methods of contacting and cooperating with the commercial sphere do these workplaces use? How to make their activity more attractive to the private sector? What role should the Technology Transfer Center at CVTI SR play as a national workplace? And what is the role and importance of local technology transfer centres at individual universities?" Želmíra Gerová from the event's organizing team, from the technology transfer department of CVTI SR.orov and universities, specifies the programmatic focus of the conference.
Premiere of an exclusively face-to-face conference
The date of this year's conference is October 18-19, 2022. COINTT 2022 will take place in the premises of Bratislava's Saffron Hotel at Radlinského 27, and for the first time, the conference will be held exclusively in person. Speakers, participants and invited guests of the conference and social evening will have the opportunity to use hotel accommodations and parking.
As every year, the basic program structure should consist of three stages: TECHNOLOGY TRANSFER, INNOVATION and COOPERATION.
Register now on our website.