FactoRIS's main goal is to support the digital transformation of RIS based manufacturing SMEs by evolving existing production facilities towards Industry 4.0. Through dedicated learning factories, the project provides digital learning content and hands–on experience, while considering existing production infrastructure. It also focuses on upskilling personnel to boost the uptake of advanced technologies. The project is supported by EIT Manufacturing and funded by the European Union's EIT Manufacturing programme.
Official website: https://www.factoris.digital/
In 2022, FactoRIS II aims to strengthen these objectives by
further evolving existing production facilities towards I4.0 and fostering collaboration between manufacturers and their suppliers within innovative manufacturing ecosystems;
employing hybrid (physical and digital) learning factories to address technological and organisational aspects of the digital transformation of SMEs;
developing and expanding the network of partner learning factories in RIS countries.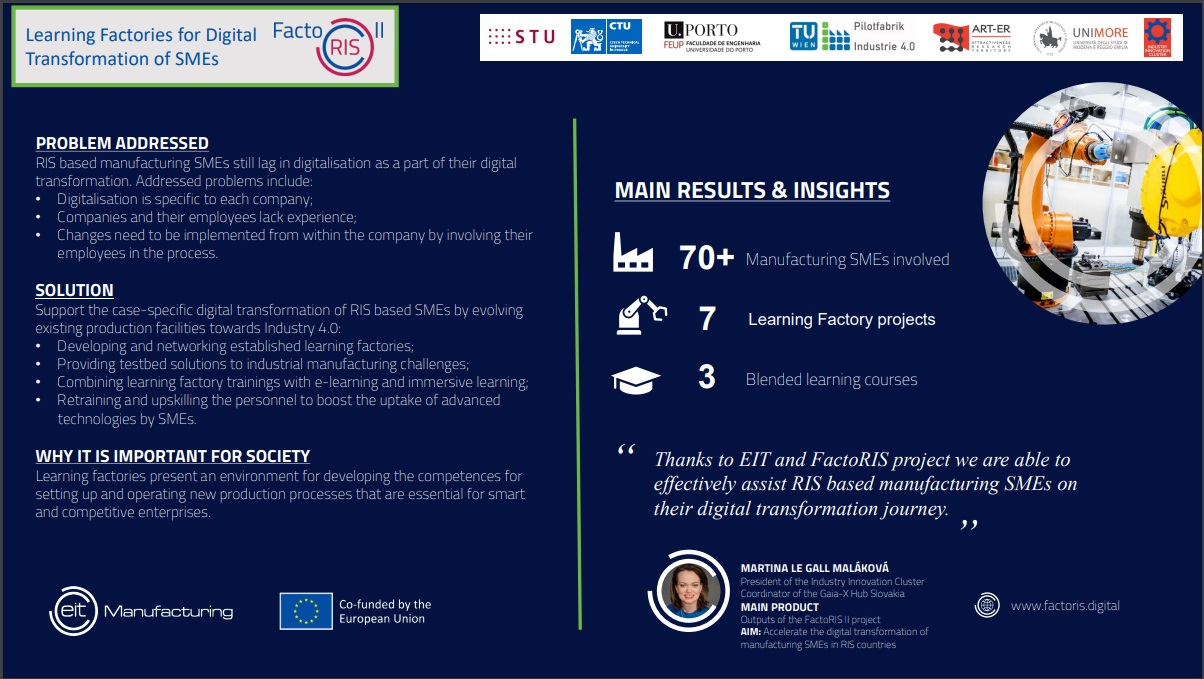 Category:

Innovation, Edu

Partner:

EIT Manufacturing

Location:

Slovakia, Austria

 

 Czech Republic

 

 Italy, Portugal

Started Date:

2021-present

Complite Date:

present

Leader:

STUBA 
Report
after the completion of the project, this link will be a report on the work done
Have Any Project? Call Us Today!