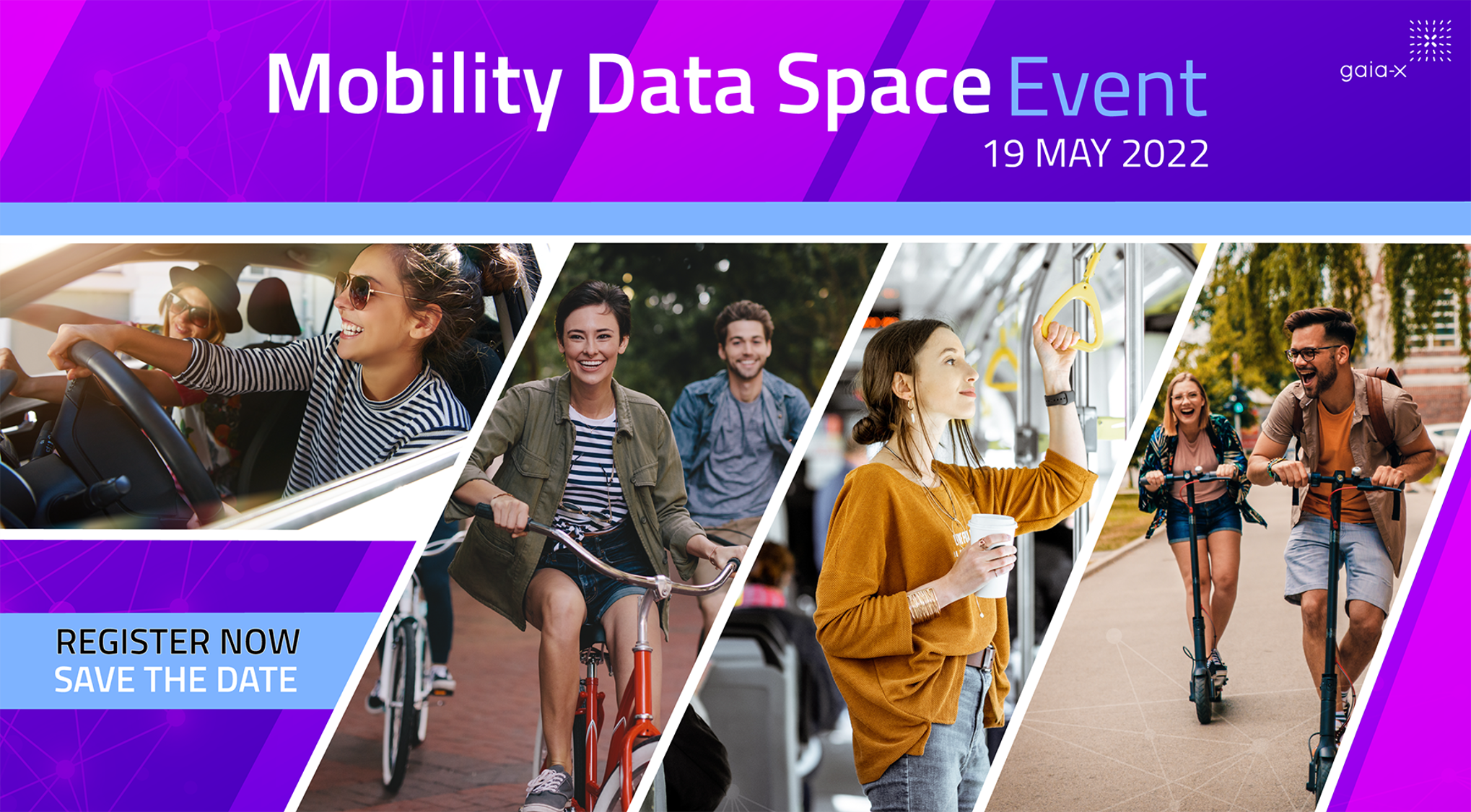 The European Mobility domain is very rich but highly fragmented. Gaia-X has set the goal of making mobility data more available to improve the capacity to circulate better for each individual citizen on the European territory and to support the development of new businesses thanks to better access to data. Privacy of personal data is to be ensured, such that citizens stay in control entirely. The Gaia-X framework enables mobility data spaces that are sovereign and federated and that can be deployed with trust and at scale. These data spaces integrate existing data initiatives in a federated structure and invite new initiatives to join the federation, to enhance the mobility experience for travellers (short and long distance) and, reduce costs, for example, linked to traffic disruption.
Join our remote event on 19 May 2022 at 10:00 CET to enable and shape the future of mobility thanks to data spaces. How can dataspaces contribute to the development of mobility activities in Europe and better service for travellers?
---
Agenda: 
Speakers' Bio and Pictures are available on the event platform.
Chapter 1: General Session
10:00 – 10:10 – Welcome & Opening: Jean-Francois Cases, VP & Associate General Counsel Amadeus, EONA-X President
10:10 – 10:20 – Keynote addresses: Denis Losfelt, IT Systems Director at SNCF Group
Overview of the Gaia-X Mobility dataspace landscape in Europe
10:20 – 10:30 – Project family Gaia-X 4 Future Mobility: Prof. Frank Koester, Founding Director of the Institute for AI Safety and Security, German Aerospace Center (DLR)
10:30 – 10:40 – German Mobility Dataspace: Andreas Heindl, Peter Kraemer, MDS
10:40 – 10:50 – EONA-X Multimodal use case: David Krieff, Groupe Aéroports de Paris CIO
10:50 – 11:00 – Belgium Mobility Initiatives: Jelle Hoedemaekers, Expert – Regulations & Standardisation Agoria and Belgium Gaia-X Hub Coordinator
11:00 – 11:10 – Slovakian Mobility Initiatives: Martina Malakova, Industry Innovation Cluster President and Gaia-X Hub Slovakia Coordinator
11:10 – 11:20 – Netherlands Mobility Initiatives: Peter Verkoulen, Programme Manager Gaia-X NL Hub and TNO
11:20 – 11:30 – Spanish Mobility initiatives: Rizkallah Touma, I2Cat, Samuel Fraga, Eccocar
11:30 – 11:40 – Italian Mobility Initiatives: Cristina De Berardinis, Gaia-X Hub Italy Coordinator and Head of Industrial Policies & Sustainability Confindustria
Overview of the key challenges to address for having successful mobility dataspaces
11:40 – 12:10 – EU Mobility Vision: Kristóf Almásy, Policy Officer, Directorate-General for Communications Network, Content and Technology and Edoardo Felici, Policy Officer (Seconded National Expert) at European Commission, DG MOVE
12:10 – 12:25 – Technical components: Stefan Ettl, BMW Group IT – Data Transformation, KI, Daten-, DevOps-Plattformen Extended Enterprise, Gaia-X (FG-260) and Patrick Hebant, Associate Director – Amadeus Dataspace ecosystem
12:25 – 12:40 – Legal environment: data act: David Schönwerth, Policy Officer Data Economy, Bitkom e. V.
---
12:40 – 14:15 – Break
---
Chapter 2: Breakout / Panel sessions
14:15 – 15:00 – #1 Urban mobility – Moderators: Maximilian Staebler & Simon Odrowski

a) From IoT to the Economy of Things – Self Sovereign Identity & Decentralized Data Spaces: Peter Busch, Robert Bosch Group: Technical Strategy for Mobility and Matthias Burchhorn, Data Space Architect EDC / IDSA /  DSBA / Gaia-X (Hub Germany)
b) Gaia-X – Mobility Data Spaces and Citizen Data sharing: Paul Theyskens, MyData Brussels Hub, IMEC and MaaS Alliance Working Group Technology & Standards Leader

15:00 – 15:20 – #2 Intercity mobility – Moderator: Dominique Epardeau, Chairperson of Gaia-X Mobility DSBC and Executive Member of the Mobility, Transport & Tourism Data Space EONA-X

Speaker: Ghislain Delabie, Fabrique des mobilités

15:20 – 15:40 – #3 Enabler Data Standards – Moderators: Harmen van der Kooij and Jelle Hoedemaekers

Speaker: Michael Karl, Head of Safety-Critical Data Infrastructures – Institute for AI Safety & Security – DLR

15:40 – 16:00 – #4 Enabler AI – Moderators: Harmen van der Kooij and Jelle Hoedemaekers

Speaker:  Arne Raulf, Head Of Department (DLR): Algorithms & hybrid solutions